The joint effort aims to provide greater accessibility to the sports facility experience for Malaysians
Over 200,000 players across more than 1,000 different sports spaces so far have benefitted
KUALA LUMPUR, 17 NOVEMBER 2023 - The Malaysian government clearly has strong ambitions of supporting our national sports facilities. Reinforcing this notion is the RM50 million set aside in Budget 2024 specifically for the maintenance and upgrading of youth and sports facilities. Sports technology player Courtsite has, accordingly, stepped up to the plate, empowering Malaysia Stadium Corporation (PSM) to drive change in Malaysia's sports ecosystem together.
This endeavour aligns perfectly with PSM's clear commitment to promote healthy lifestyles for the greater community, as evidenced by their previous announcement alongside the Youth & Sports Ministry to allow schools to host sports days at three locations managed by PSM —  KL Sports City, Jalan Duta Sports Complex and Bukit Kiara Sports Complex — for free from October 2023 onwards.
However, initiatives like these require a lot of organisation, and that's where Courtsite plays a key role. Through Courtsite, PSM has completely automated the booking process, leading to a streamlined reservation system and greatly reduced operational costs. All of PSM's facilities are now also accessible 24/7 as a result of Courtsite's tools.
"In our relationship with Courtsite since April 2023, we've seen firsthand how the platform has led to increased efficiency, accessibility and even revenue for both sports enthusiasts and facilitators. The aggregation of all the necessary management tools under one roof has paved the way forward for digital transformation of the sports industry at large. All of us involved in management and operations at PSM are thrilled with the implementation of Courtsite. We're immensely excited to see this influence spread even further throughout the nation," shared Mohd Faidz Sanusi, CEO of PSM.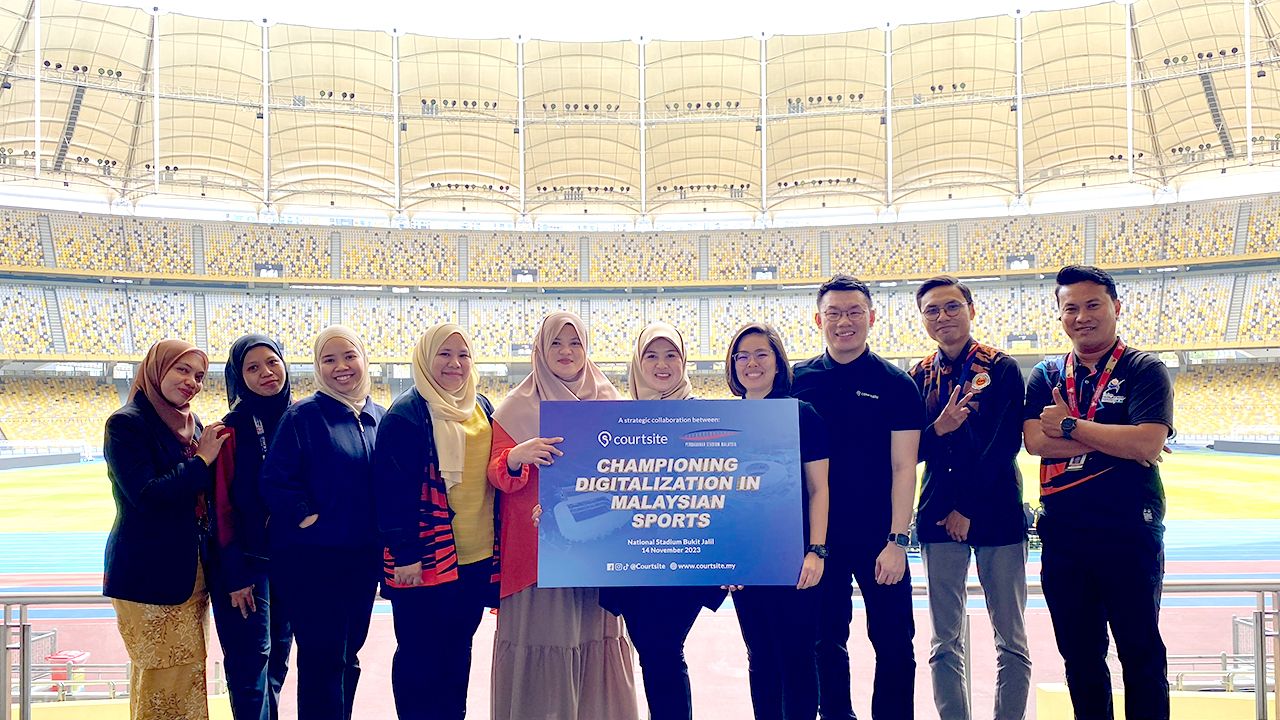 The long-term impact of the collaboration has been evident through the substantial uplift in revenue growth across all of PSM's facilities, as well as the mere fact that with Courtsite's work, the National Sports Complex is also now open to the public at large, which only serves to underscore PSM's commitment to providing world-class sports facilities to all Malaysians.
"Courtsite has processed over 3,000,000 hours of booking so far, and served more than 200,000 users over 90 sports venues nationwide. This not only marks Courtsite's growth as a key sports technology player, but also serves as a resounding validation of the trust and confidence our users and partners have placed in us, for which we are grateful. Notably, millennials and Gen Zs especially — who are already tech-savvy and forward-thinking — are now perfectly positioned to benefit from using Courtsite to book sports facilities, including PSM's offerings, and many more," said Samuel Siew, CEO of Courtsite.
Courtsite's goals are also in line with the national intention of growing Malaysia's sports ecosystem. In fact, two key pillars of the country's National Sports Vision 2030 (VSN2030) concern sports facility accessibility and digitalisation respectively. Naturally, Courtsite's work in making sports hubs easy to find and book matches as well as enhancing accessibility and governance while supporting a data-driven approach throughout their platform make them key drivers in supporting these ideals.
Courtsite's services are designed to account for as many potential pain points in facility management as possible. For instance, the platform provides instant access to slot availability for both users and operators, allowing for full transparency and convenient adjustments across the board. On top of that, their in-built data analytics capacity allows facility owners to support their business decision-making using detailed breakdowns of revenue generation, customer behaviour, and facility utilisation.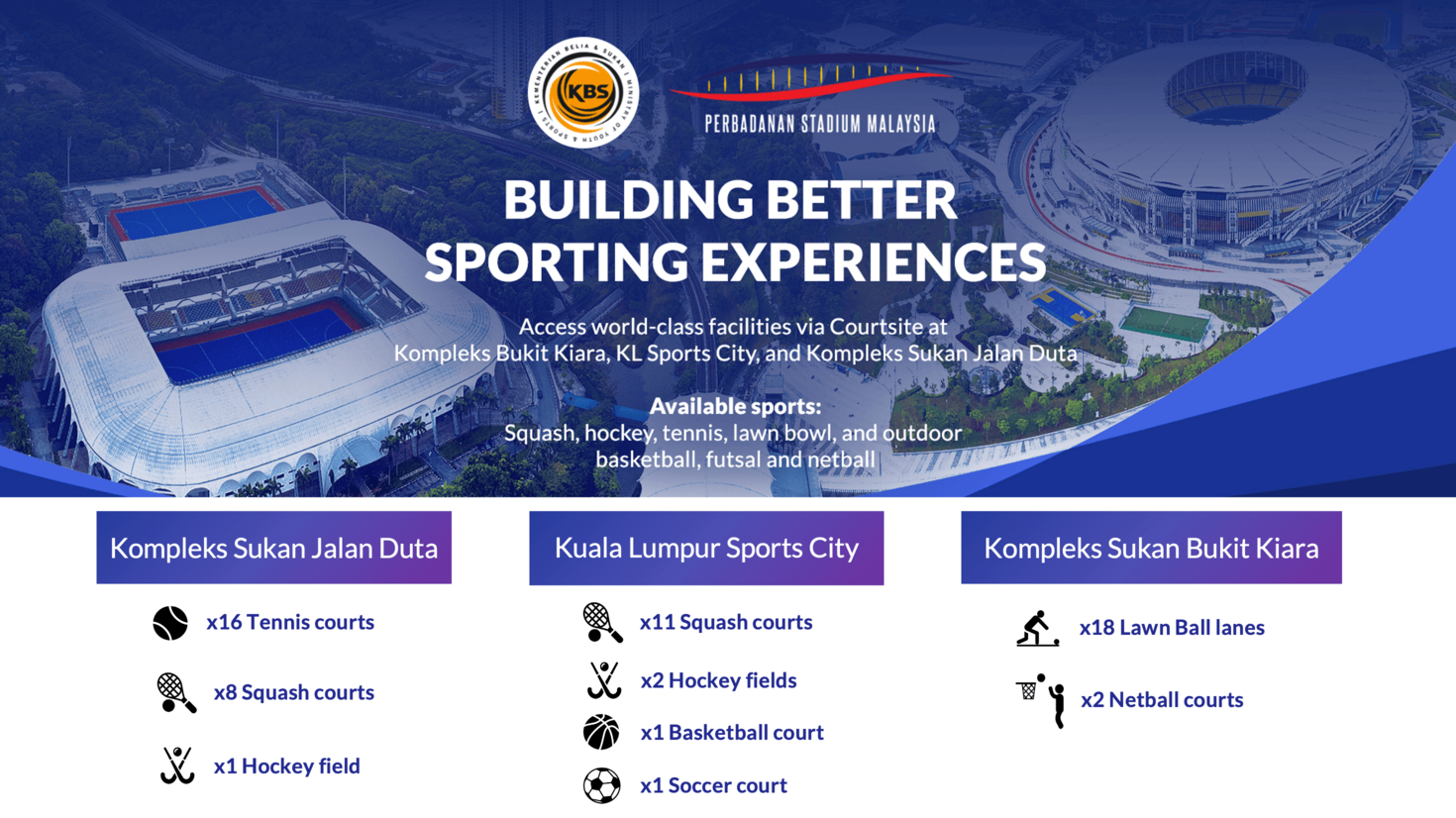 So far, Courtsite has digitized a wide variety of sports facilities. With over 200,000 users to date across 9 states — and counting — they work in tandem with both statutory bodies like PSM, governing sports bodies, and international and government schools to streamline operations effectively for all parties.
At the heart of it, Courtsite's endgame is to grow and revolutionise the sports ecosystem entirely through their role as a sports technology partner. Gone are the days of shuffled papers and ink-smudged records. Instead, Courtsite invites sports facilities owners — whether they're private, governmental, educational, or otherwise — to be part of the sports ecosystem metamorphosis, and there is so much more innovation and elevation of the sports industry to come with Courtsite leading the charge.