We know how important your regulars and season booking customers are and we have some quick tips on how you can manage their bookings more efficiently!
Save contacts for easy retrieval in the future
First, save their contact details under the Contacts tab of your Console.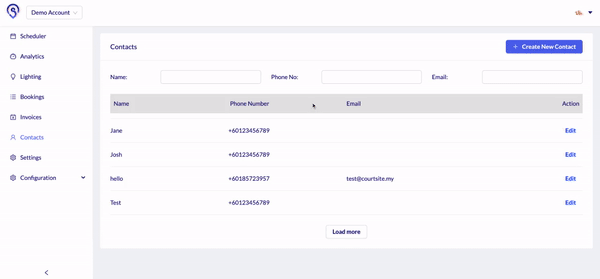 Once their contact details are saved, you can easily retrieve their contact details by simply typing in their name under the Guest Name field when creating their booking.
This way, you can save time by not having to key in their contact details every time you need to create a booking for them.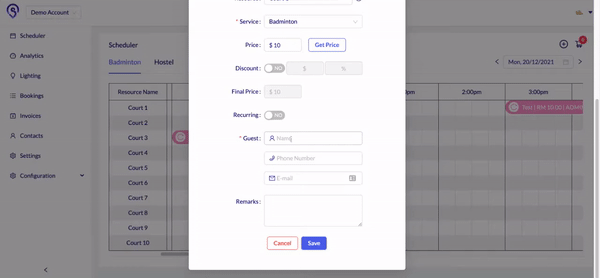 Create a series of recurring bookings
If you need to create a recurring booking for your customer, simply toggle the recurring button when creating the booking.
Once the recurring button has been toggled, input either the number of occurrences you want the booking to recur or the end date of the series of recurring bookings.
With this, you won't need to create individual bookings for your regular customers.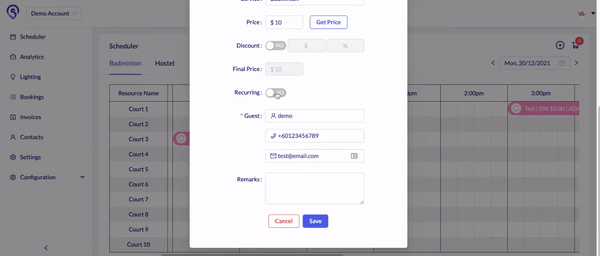 Checkout recurring bookings at a go
Once you have created the series of recurring bookings, you will be prompted to indicate whether you'd like to check out the booking as a series of recurring bookings or as an individual booking.
For example, if you have created a series of 5 recurring bookings, when you click Pay, a pop-up message will appear.
- If you choose yes, all 5 bookings will be added to your cart for checkout.
- If you choose no, only this booking will be added to your cart.
Do note that the maximum number of bookings you can checkout at one go is 52 sessions. 2 resources with 5 recurring occurrences will be considered as 10 sessions.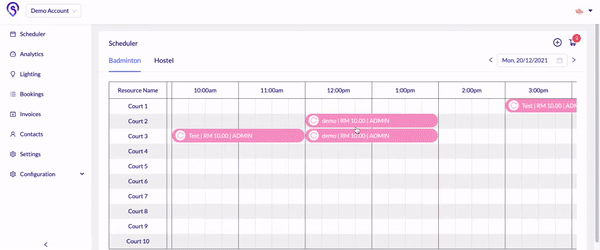 Let your admin booking customers pay online
If you're looking to skip the hassle of checking whether your admin customers have paid for their bookings, you can collect payment from them using our Courtsite Online Payment Link feature.
You'll just have to generate a payment link for their bookings and share the link with them so that they can pay for their bookings through our Courtsite Platform.
To generate a payment link, simply select the payment method "Courtsite Online Payment" at checkout.
Once the payment link is generated, you can easily send the link to your customers by clicking the copy button to copy the link to share with your customer.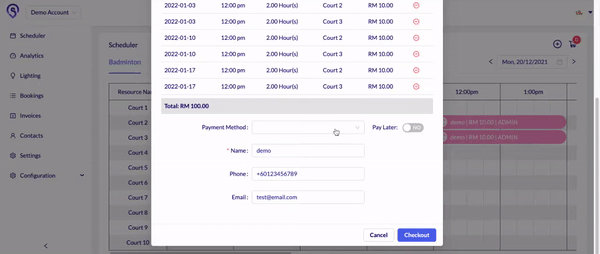 Your customers would be able to view their booking details via the link. A good practice would be to get your customer to confirm that their booking details are correct before proceeding to pay.
The booking will appear green on Schedular once the payment link has been generated and will remain green so long as the booking has not been paid. Once the bookings are paid, the booking will turn blue on Schedular, indicating that the bookings have been successfully paid by the customer.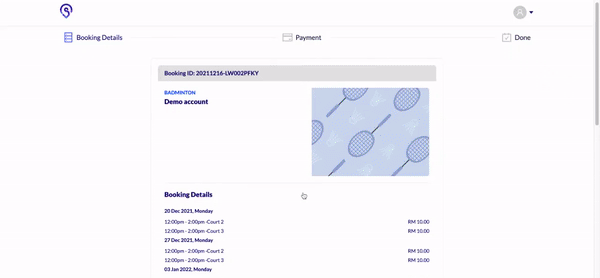 Duplicate bookings to easily create bookings for the same customer
If your customer wishes to renew his or her bookings for the next season, you can duplicate his booking by clicking on the Duplicate button.
All the booking details will be duplicated and you can edit the date of the booking and the recurrence of the bookings.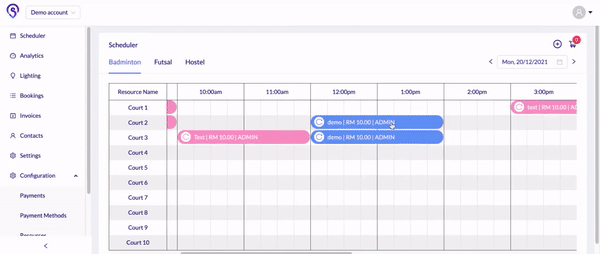 Interested to find out more? Please drop by your contact HERE and we will get in touch with you shortly. For existing partner centres, do reach out to your friendly Courtsite customer success consultant for details and training.